Jim Berg
Growing up in South Dakota, Jim Berg spent countless hours side by side with his dad, tinkering on the family Volkswagens and taking care of the farm. Working with machinery taught Jim to troubleshoot, an ability he has since put to use in counseling. He draws many of his examples and illustrations from his experiences growing up in a working-class home.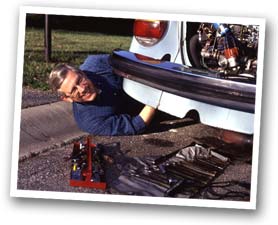 Jim credits restaurant work during his high school years with teaching him "people skills," and college as being the place where God got hold of his heart, and "blended" all of his growing up experiences to give him the ministry he has now. Today, one wife, three daughters, three sons-in-law, several grandchildren, thousands of students, and a host of readers and listeners later, Jim Berg finds a broad audience with which to share the important spiritual truths the Lord has taught him.
Berg's message, both in print and in oral presentation, is eagerly received by thousands from around the world. His highly successful Christian discipleship series includes Changed Into His Image (also available in Spanish, German, Portuguese, and Russian), and Created for His Glory. Available in print, video and DVD, these titles have proved to be a highly effective instrument for spiritual growth. Two other books by Berg, Basics for Believers (also available in French and Spanish) and When Trouble Comes offer simple gospel basics to show the way of salvation, and practical help for the deeply troubled or bereaved. In Quieting a Noisy Soul, Berg delves more deeply into the ministry of discipleship counseling by working with the difficult issues of panic attacks, obsessive compulsive behavior, self-injury, and other serious problems.
Berg received his undergraduate degree in Bible in 1974, and his MA degree in theology in 1976 from Bob Jones University. He has an honorary doctor of divinity degree from Tabernacle Baptist Theological Seminary. He served as dean of students at BJU from 1981 to 2010. Today he teaches in the BJU Seminary and tinkers on his old Volkswagen, Willie.
If you'd like to find out more about Jim and his family, visit www.jimberg.com.